The winner of the 2016 VSA Kentucky Ron Billings Emerging Artist Award is Melody Bock-Freeman  of Lexington, KY.
2015-16 VSA Kentucky Young Soloist Winner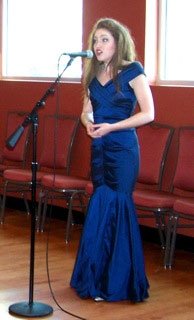 Each year VSA Kentucky recognizes outstanding young musicians, ages 14-25 with disabilities and supports and encourages them in their pursuit of a career in music. These emerging musicians receive a $500 educational scholarship, mentoring sessions with professional musicians and performance opportunities.
Gabrielle lives in Lexington, Kentucky. She is a vocal performance major at the University of Kentucky. Gabrielle studied voice during high school winning vocal competitions, participating in All State Choir, ACDA Choir and being a part of the Governor's School for the Arts.
"I love to act and sing, so I am particularly interested in an opera career. I believe that nothing should hold a person back from their dreams, so I try to take every opportunity that I can to make them happen. Performing has taught me a lot about myself. I am happy to share my gift with others."