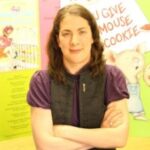 Louisville, KY
Theatre Arts
847-567-6640
I am a teaching artist who curates theatre arts experiences for students of all ages. I often use a story as a jumping off point for a highly participatory lesson for younger students, and enjoy offering story as metaphor when I facilitate more specific skill-based lessons for older students. My hallmark style involves placing the student experience at the center of each lesson, and crafting accessible, personalized questions that explore not only the art of theatre, but the depth and breath of the human experience.
I can create lessons in multiple formats:
1) Zoom (or other digital platforms) interactions in "real" time,
2) pre-recorded video content to be used any time
3) paper-based lessons and interactive activities
4) A customized mixture of of two three of the formats above
I look forward to working with you!