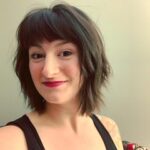 Bowling Green
Dance and Movement
270-779-6662
I've been teaching dance professionally since 2008 and have always strived to make my classes accessible to everyone because dance is for EVERYONE of all ages and abilities. I received my bachelor's degree from Western Kentucky University with a double major in Dance and Arabic and since then have worked for dance studios, schools, performing arts centers, disability and community organizations.
As a teaching artist, I collaborate with educators to build lesson plans that enhance curriculum in ways that best suit the needs of all students.
I have experience teaching many styles of dance including Ballet, Jazz, Tap, Improv, Lyrical, Contemporary, Musical Theatre, Celebratory and Folk dances, as well as, beginning Ballroom styles like waltz, cha-cha, and salsa. Dance is a great way to offer interactive components for learning in history and social studies. Physical education and dance have similar goals in developing gross motor skills. Dance offers kinesthetic learning for understanding elements of music and math. Science connections are made to anatomy by learning to identify and isolate muscle groups. In addition, dance provides opportunities for social-emotional learning (SEL) by developing the self-awareness, self-control, and interpersonal skills that are vital for school, work, and life success.