Ron Billings Registry Artist Award
What is the Registry Artist Award?
Arts for All Kentucky is pleased to offer the Annual Ron Billings Registry Artist Award.  Awards up to $500 will be provided to help registry artists further their artistic career.
Our Registry Artist Award is named after Ron Billings, Louisville, Ky., (1939-2004): Mr. Billings was a civil engineer and artist who redesigned his home to accommodate access for his wheelchair. He was a Disability rights advocate and former member of the Louisville and Jefferson County Human Relations Commission. He fought for equal access for disabled people to take Metro buses and advised the Louisville Zoo and the Kentucky Fair and Exposition Center on accessibility issues for the handicapped. His work included advising the local chapter of AARP and working with the Kentucky Legislature for inclusion and protection against discrimination for individuals with disabilities statewide. Ron Billings was especially proud to have been invited to the White House in Washington DC for the signing of the Americans With Disabilities Act (ADA) in 1990.
Ron served on our Arts for All Kentucky (formerly VSA) Board of Directors for many years and provided important perspectives on accessibility and disability awareness.
Purpose:
To provide professional development funds to encourage promising registry artists with disabilities to further develop their artistic abilities and careers.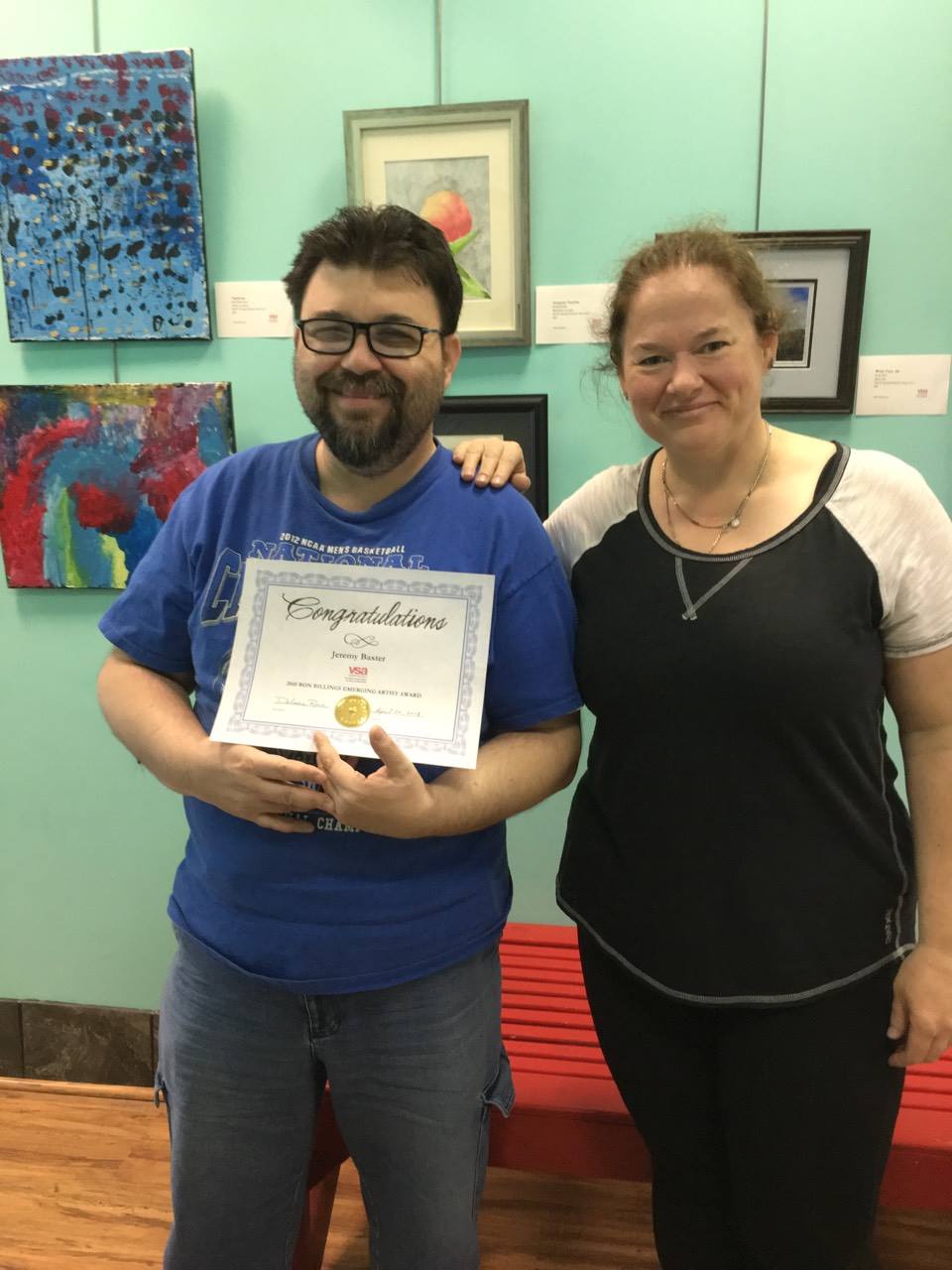 How can this opportunity help you?
If you want to take your artistic career to the next level or improve your artistic and/or technical skills in visual or performing arts, you are eligible to apply. You may be needing professional development to learn how to market your work.  With this award, you can, for instance:
Hire a mentor in your art discipline to work with you
Attend a class or series of workshops to refine your artistic skills
Take classes on marketing your work
Develop a website
Develop a portfolio in order to pursue exhibiting your art
Buy materials you need to work in your arts discipline
Pay for transportation to and from classes or learning opportunities
Am I eligible?
You must meet the following guidelines in order to eligible for this award:
You must be an registry artist
You must be age 18 or older
You must be a resident of Kentucky
You must have a disability (ANY disability; for instance, depression, learning disabilities, hearing impairment, vision loss or blindness, dyslexia, physical or developmental disability).
Complete the application and return it with all supporting materials to Arts for All Kentucky postmarked no later than April 5.
When will I hear if I receive an award?
Award selections should be announced no later than April 30.
If I receive an award, what must I do?
We will pay for class fees, supplies purchase, classes, materials, etc. when you submit your request with copies of all receipts and invoices from vendors, educational organizations, etc.
Awardees will submit an expense report to Arts for All Kentucky by June 15.
Document this with photos, CD/DVD/audio/video.
Provide artwork for an exhibit or a performance to be determined.
Questions?
Call 270-792-0023 or email programs@artsforallky.org
Download:
Ron Billings Registry Artist Award Application and Guidelines (DOCX)
Make A Contribution
Please consider helping Arts for All Kentucky to continue fulfilling its mission with a monetary contribution.
Programs At A Glance
Experiential, inclusionary arts projects in creative writing, dance, drama, music, storytelling, or visual arts.