Attention Kentucky Teachers!
Looking for a way for your students to have enriching, fully inclusionary, educational arts experiences that interface with your curriculum and enhances learning?
Twenty-five to thirty $1,400.00 awards will be given out to schools across Kentucky for arts projects that include students of all abilities. This program was designed by Arts for All Kentucky (in partnership with the Kentucky Dept. of Education) to provide opportunities and experiences in the arts for all children (with and without disabilities) that interface with KAS (Kentucky Academic Standards) and the classroom curriculum in mainstream settings. This is an opportunity for classroom teachers (academic, special education, art teachers/specialists) and artists (in the arts disciplines of dance, drama, literary arts, music, storytelling, or visual arts) to work together to plan a fully inclusionary arts project for a group as small as 25 children to a larger group. Any project idea that provides experiential, enriching, adaptive experiences in an art form(s) for all students is worthy of our consideration.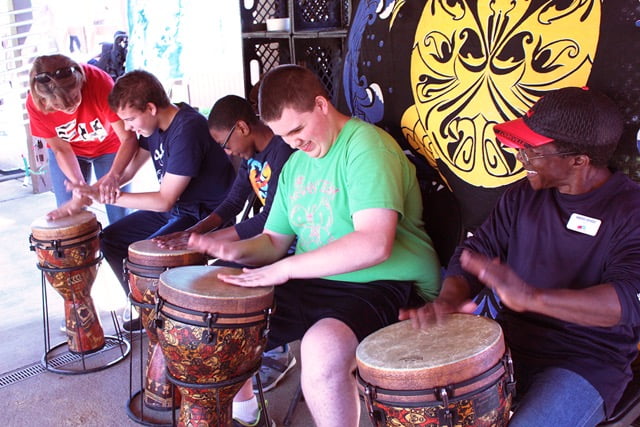 This award is also a way that you can bring arts specialists (teaching artists) into your school to work with students. Included on this website is our Teaching Artist Roster. If you are proposing an artist for your project, we encourage you to use this teaching artist roster, because these artists have already been approved by us for the quality of their artistic work and for their ability to implement UDL for their arts activities to meet the adaptive needs of your students. To insure a meaningful, quality experience, we recommend that your project involve a core group of students who will have repeated or prolonged exposure with the visiting artist(s). We have found that only (1) one-hour class is usually not enough exposure to provide a lasting experience for the students. We recommend at least five classes of direct contact with the artist and art-form for your core group. You can also include other groups of students that will have a more limited exposure (two to three total classes).
If you wish to propose an artist who is not on our roster, an approval procedure must be followed (See the application, section D, Item 3 for more information).
Arts Inclusion Program
Download the 3 part application, choose between PDF or Word Document format.
* – Please download the latest FREE version of Adobe Acrobat Reader by clicking the button (Adobe Reader) below for a fast and easy way to view and/or print out your Arts for All of Kentucky applications. If a Word document is preferred, please call 270-792-0023 or email
programs@artsforallky.org
The Arts for All Kentucky Arts Inclusion Program is made possible by a partnership with the Kentucky Dept. of Education, Division of Learning Services.

Make A Contribution
Please consider helping Arts for All Kentucky to continue fulfilling its mission with a monetary contribution.
Programs At A Glance
Experiential, inclusionary arts projects in creative writing, dance, drama, music, storytelling, or visual arts.